June 19, 2005
Cloud9, Prawn restaurant and Teppanyaki
Sorry for not posting that much the past days. I was kept busy and went to bed quite late. Well, where shall I start reporting what was going on the past days....
I did bring Flo to the Cloud9 bar on Friday evening. The bar is located on 88th floor of the Jinmao Tower, always a good place to hang around. After having had some drinks, we ended up in downtown.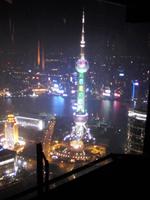 Finally at around 2 AM, Flo got veeeeeeeeeeeeeery hungry and decided to get into a small Chinese restaurant specialised on prawns....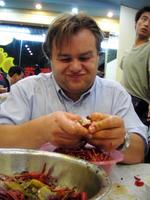 I did took few great shots when he was trying to eat those animals :-) (Check out my picture gallery!)
Yesterday, on Saturday, Flo did buy some more clothes and stuff. In the evening, together with seven friends of mine, we went to my most favourable Japanese Teppanyaki restaurant at Dongping Lu, corner to Hengshan Lu. As always, it was just delicious!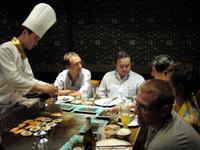 At midnight we raised a toast on my birthday before we left for O'Mailey for more jugs of beer. The evening ended in Dragon Club, a new Venue at Fenyang Lu, I have never been to before.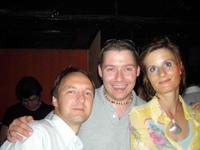 Posted by Claudio at June 19, 2005 09:09 AM


© copyright 2005 by