May 31, 2007
"Spiderman" Alain Robert climbes Shanghai's Jinmao Tower
My goodness, it's him, again!
The frenchman Alain Robert known as "the" base climber on earth has just recently succeded in climbing up China's tallest scyscraper, Shanghai's Jinmao Tower.
Funny, the Jinmao tower used to be the office building I worked in during my stays in Shanghai in 2003 and 2005 and that it was Alain Robert, the person I coincidentally met during my holiday in Abu Dhabi in fall 2005 in the Hilton Hotel. At that time I didn't know him at all and to be honest I was laughing at him, when I saw him entering the hotel restaurant wearing funny cowboy boots. It was just a ridicolous impression.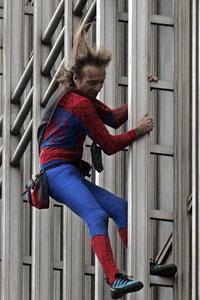 (c) by Spiegel.de
May 29, 2007
May 24, 2007
May 12, 2007
© copyright 2005 by