November 21, 2005
Shanghai International Marathon
On November 26th this year, the forthcoming Shanghai International Marathon will take place in Shanghai.
This time, my former boss from Shanghai is going to take part in this huge challenge. I wish him the very best for his race!
November 20, 2005
Shanghai Express 6 - 2005
The German Consulate just published the most recent version of its Shanghai Express newsletter (German).
You may want to download it from the FILES section on the right column of this page. Remember the password to open these files is: "asmallcity.com"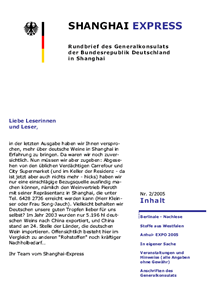 November 06, 2005
Back from Abu Dhabi...
After two weeks I got back from Abu Dhabi and already started my first job after graduating from uni. So time is limited for leisure and private stuff. I recently uploaded my holiday pictures (pls refer to my picture gallery).

© copyright 2005 by